URGENT message from Andrew White the Vicar of Baghdad, Iraq.
"Today ISIS is less than two miles away from the Christian community, and everybody is terrified of what is going to happen.
The islamist group (ISIS) just took over Quaragosh, the biggest Christian city in Iraq. There are hundreds of men, women and children that are being beheaded. The people are asking for prayers to be made on their behalf concerning the ongoing atrocity in their country. Please take one minute to pray for them. Pass the message across to all your contacts so that the prayer chain will not be broken. They asked for this special prayer. Please, ensure you pass across the prayer request to the body of Christ for fervent prayers offered on behalf of the brothers, sisters and children in Iraq. This is an urgent SOS. May God bless you."
Suggested prayer: Please, God, protect and save these Christians, and bring mercy, shame and repentance into the hearts of their oppressors. Amen."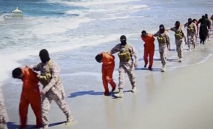 And this is the news reported by ASLJ
ISIS just captured a new Syrian city, kidnapped Christians, and desecrated churches. Islamic jihadists are raping children and selling girls into sex slavery - the younger the girl, the higher the price.
It's a horror not witnessed in our lifetimes.
The Pope starkly called it a "third world war."
Christians are the target of jihadist genocide. But will we do something about it, or will we sit in silence?
As our brothers and sisters in Christ are raped, tortured, and killed, we MUST act.
At the ACLJ, we're deeply engaged in the fight for the persecuted Church, but we need your voice.
We're aggressively advocating through our offices in the region and on Capitol Hill. Key legislation adopting some of our recommendations is moving in Congress, but more must be done.
Be heard for the persecuted Church before it's too late.
Sign Our Urgent Petition: Stop ISIS's Genocide of Christians.
Jay Sekulow
ACLJ Chief Counsel