"GAYS" SMEAR PASTOR LIVELY AND AFA WITH HORRIFIC MURDER HOAX
Springfield, MA. Pastor Scott Lively of Abiding Truth Ministries and the leaders of American Family Association (AFA) are today demanding a retraction and apology from a Traverse City, Michigan homosexual activist group called TC Equality which has published a horrific photograph on the Internet of an African man being burned to death while a crowd of people including young children look on. TC Equality stated that this photograph depicts the beating, stoning and murder of a Ugandan homosexual man "for being gay" and placed the blame for this murder upon Lively and AFA for "promoting violence against gay and lesbian people around the world." This photo and message was apparently circulated by email and posted on Facebook, with an urgent plea to "Please share this alarming picture so the world can know."
However, the gruesome picture was actually taken in the Kibera slums of Kenya and the man in question was an accused mugger and thief killed by a vigilante mob stirred up by his victims. It had nothing to do with homosexuality, Pastor Lively or AFA.
Furthermore, the allegation that Pastor Lively and AFA have promoted violence against homosexuals is an absolute fabrication without a shred of truth behind it.
Here is the picture in the original article published last year.
http://kevinaloo.wordpress.com/2013/05/23/crime-in-kibera/
"This is the most disgusting piece of libel by the LGBT community that I have ever seen, and I've seen a lot of it" said Lively, who was at one time the California director of AFA. "It is as evil and Satanic as the murder that it misrepresents. What kind of sick minds exploit such a horrific tragedy to implicate innocent people just because they oppose their political agenda?"
Sadly, this in not the first time that the LGBT community has defamed Pastor Lively by accusing him of inciting murder. In early 2011, Ugandan homosexual activist David Kato was beaten to death with a hammer in Kampala by his male lover, Enoch Syudney Nsubuga. However, the global "gay" activist network portrayed the Kato murder as a "homophobic hate crime" inspired by Pastor Lively's preaching against homosexuality there in 2009. They continued to perpetuate this hateful myth even after Nsubuga, a male prostitute whom Kato had bailed out of jail to be his live-in lover, confessed to the crime and was sentenced to thirty years in prison for it.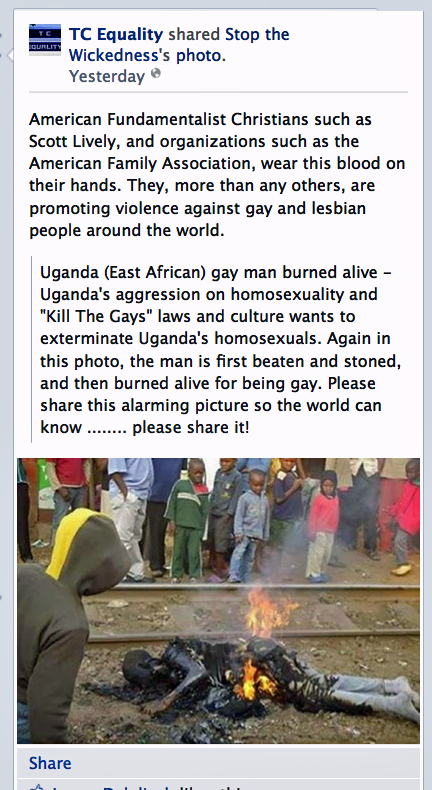 PRESS RELEASE
For Immediate Release
Contact: Dr. Scott Lively, 413-250-0984
www.defendthefamily.com
www.ScottLively.net
"Gays" Smear Pastor Lively and AFA with Horrific Murder Hoax